Bieżnia Body Space Infrared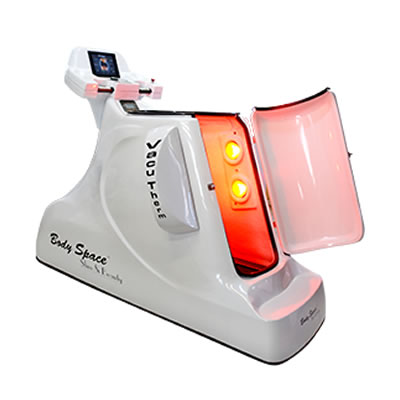 Wykorzystuje w swoim działaniu najnowsze, rewolucyjne osiągnięcia techniki – promieniowanie podczerwieni, które wielokrotnie zwiększa efekty wysiłku fizycznego i pozwala na osiągnięcie pożądanych efektów w krótszym czasie. InfreRed to nowatorska metoda odchudzania polegająca na błyskawicznym rozgrzewaniu tkanek i mięśni, wzmagając przy tym krążenie i metabolizm, przyśpieszając spalanie tkanki tłuszczowej, redukcję cellulitu, a w ostateczności dająca efekt odchudzania.
Działanie promieniowania podczerwieni powoduje, że organizm łatwiej wydala nie tylko wodę, ale także tłuszcz, cholesterol, metale ciężkie, kwasy i związki toksyczne, mobilizuje siły obronne naszego organizmu, wzmacnia układ immunologiczny. Pomaga również wiązać wolne rodniki, powodując efektywne oczyszczanie organizmu. Pod wpływem ciepła poprawia się krążenie krwi, skóra wydala zanieczyszczenia i martwe komórki, a przez to staje się bardziej jędrna i gładka.
Skutkiem tego jest zwiększenie przepływu krwi i lepsze dotlenienie i ukrwienie tkanek. Tlen jest lepiej doprowadzany do komórek ciała.
To powoduje odprężenie, redukuje bóle mięśniowe i przyspiesza procesy leczenia. Dzięki wykonywaniu klasycznych ruchów na bieżni (zdecydowany marsz) oraz podciśnieniu panującemu w kapsule dochodzi do polepszenia krążenia krwi głównie w miejscach najbardziej narażonych (brzuch, uda, pośladki) na powstawanie cellulitu.
EFEKTY:
likwidacja cellulitu
przyśpieszenie przemiany materii – spalanie kalorii. Podniesienie temperatury ciała o 1 stopień, oraz lepsze ukrwienie w dolnych partiach ciała powoduje przyśpieszenie przemiany materii o 40%.
szybkiego spalania tkanki tłuszczowej (uda, brzuch, pośladki). Maksymalne przyśpieszenie krążenia krwi w skórze i tkance podskórnej powoduje dwukrotne przyśpieszenie procesów przemiany materii. Efektem czego jest szybka utrata zbędnych kilogramów oraz cellulitu.
wyszczuplanie i wymodelowanie sylwetki
poprawy ukrwienia (skóra staje się bardziej elastyczna i jędrna)
polepszenia kondycji fizycznej
poprawy krążenia i poprawa działania układu limfatycznego
szybkiego usuwania toksyn i substancji szkodliwych z organizmu w wyniku maksymalnie intensywnego pocenia się.
likwidacja zespołu "zimnych stóp"
poprawa samopoczucia poprzez wyzwolenie hormonów szczęścia podczas sesji treningowej
poprawy kondycji układu sercowo-naczyniowego – zwiększenie częstotliwości akcji serca do wartości jakie osiągane są u ludzi intensywnie uprawiających ćwiczenia fizyczne,
działanie przeciwbólowe – działa przeciwbólowo, ogólnoustrojowo w leczeniu urazów oraz przewlekłych dolegliwości pochodzenia neurologicznego i reumatoidalnego.
opóźniania procesów starzenia się skóry (Antyaging)– rewelacyjne efekty w procesie opóźniania starzenia się skóry. Dzięki promieniom podczerwonym, podczas naświetlań dochodzi do pobudzenia produkcji kolagenu w skórze.
PRZECIWWSKAZANIA:
Ciąża
Cukrzyca
Ostre bóle zakrzepowe
Nowotwory i guzy
Niedoczynność tarczycy
Ciężkie migreny
Choroby serca i choroby naczyniowe
Epilepsja
Wszczepione elementy metalowe
Nie zagojone blizny po operacjach chirurgicznych
Przepuklina, dyskopatia, kręgoszczelina
Ostre zapalenie żył
Rozwarstwienie rogówki
Proteza kolanowa i biodrowa
Wszczepiony stymulator serca